VIBRER AU RYTHME DE L'ÉTÉ AVEC TEA BY THÉ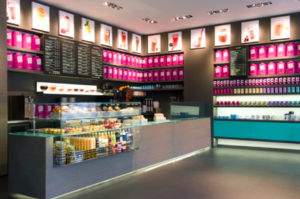 Patrick et Francois Derderian créent Tea By Thé car ils souhaitent apporter un nouveau regard sur l'univers des thés. C'est ainsi qu'ils proposent une offre de cocktails sans alcool. Toute la gamme est originale et unique. En effet, chaque thé est pensé afin d'apporter une réelle explosion gustative. C'est en 2010 que Tea by Thé se lance pour la première fois au Palais Royal. Ils sont désormais implantés sur l'avenue de l'Opéra dans un spacieux espace de 150m2.
Une gamme variée de mocktails
Chez Tea by Thé, le plaisir frais se déguste à tout moment de la journée. Ainsi, les mocktails peuvent s'accompagner d'en-cas salés ou sucrés. De plus, la marque porte une grande importance à la provenance de ses produits ainsi chaque ingrédient est choisi avec soin. Patrick et Fracois sélectionnent exclusivement du thé en feuilles, de l'eau systématiquement filtrée avec des températures de l'eau variant en fonction des thés.
LE MOJITHÉ
clin d'oeil au celèrent cocktail cubain, c'est la boisson signature de la marque. Un équilibre délicat entre la légèreté du thé vert et la fraicheur du citron et de la menthe.
BUBBLE THE MATCHA
Un thé vert antioxydant avec les fameuses perles de tapioca, riches en fibre et source de fer.
LE MATCHA-MATCHA ICE CREAM
Une délicieuse soft ice-cream au matcha faite maison.
LE CUCUMBER THE
Un délicieux thé vert rafraîchi avec du concombre, du citron jaune et du soda.

DES PÂTISSERIES SIGNÉES CHRISTOPHE MICHALAK
Le week-end vous pouvez retrouver les pâtisseries gourmandes de Christophe Michalak telles que la Pavlova Framboise ou le Kosmik fraisier. En effet, ces derniers s'associent à merveille avec thé de chez Tea by Thé.
Pour célébrer la saison estivale, le magasin ouvre ses portes à tous les parisiens pour une dégustation de
cocktails de thés exclusive le vendredi 23 juillet et le samedi 24 juillet, entre 12h et 16h.
 3 Avenue de L'Opéra, le magasin est ouvert tous les jours