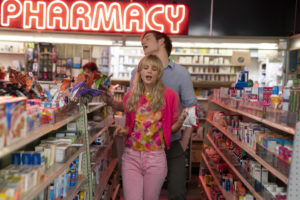 Emerald Fennell, réalisatrice et auteure connu pour la série Killing Eve offre un nouveau récit de vengeance inattendu. Cependant, ce récit n'est pas comme les autres. En effet, la réalisatrice à voulu se différencier des films de vengeance classique où les femmes sont relativement violentes, sexy et profondément déprimantes. Ainsi, le film nous propose un tout nouveau scénario à la fois étonnant mais aussi séduisant.
Synopsis
Tout ceux qui côtoyait de proche ou de loin Cassie était d'accord pour dire qu'elle était une personne brillante et pleine d'avenir. Mais cela était sans compter sur un évènement totalement inattendu qui allait venir chambouler toute cette stabilité. Cependant, il ne faut pas se fier aux apparences concernant la vie de la jeune Cassie. En effet, elle aussi aussi brillante que maligne, aussi séduisante que calculatrice mais surtout, elle mène une seconde vie le soir venu. Ainsi, au cours de cette incroyable aventure, une surprenante rencontre va permettre à Cassie de réparer ses erreurs du passé.
Récompenses
Promising Young Woman, le film au fort potentiel, a été nommé dans les plus grandes cérémonies, et notamment dans les BAFTA (British Academy of Film and Television Arts). Ainsi, cela lui a permis d'accéder aux meilleurs prix. En effet, il a gagné les prix du meilleur film britannique et du meilleur scénario, et les Oscars, où, parmi cinq nominations, le film a remporté la statuette du meilleur scénario original.
Promising Young Woman disponible dans toutes les salles à partir du 26 mai 2021