L'hôtel The Peninsula Paris rouvre ses terrasses dès le 19 mai
Dès le mercredi 19 mai à midi, les parisiennes et parisiens seront invités à se retrouver entre amis ou en famille sur les terrasses de l'hôtel The Peninsula Paris.
La Terrasse Kléber : le retour des déjeuners, des afterworks et des brunchs en terrasse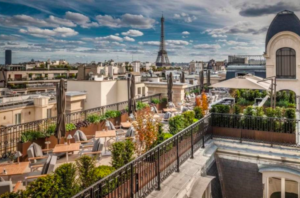 Dès midi et pour toute la journée, sera proposée une sélection d'entrées aux saveurs printanières, de plats gourmets et de grands classiques. Daurade à la flamme ou encore bar rôti accompagné d'asperge verte combleront toutes les envies. Enfin, des desserts subtilement sucrés seront proposés pour une fin de repas tout en douceur.
Tous les jours à partir de 17h, une carte de petits plats viendra s'ajouter à l'offre de la Terrasse Kléber. Également, dès le 23 mai prochain, le célèbre brunch sera de retour tous les dimanches de 11h30 à 15h, sur réservation. Un large choix à la carte : boissons chaudes, jus de fruits frais, viennoiseries, brioche feuilletée et petits gâteaux maison.
Le Rooftop : déjeuners sur les toits de Paris et fins de journée ensoleillées
Ouvrant ses portes tous les jours, de 12h à 21h il offrira aux visiteurs deux temps bien distincts. Ainsi, dans un premier temps le déjeuner, sur réservation. Disponible de 12h à 15h, il proposera une sélection d'entrées, de plats et de desserts. Ensuite, profitez entre 15h et 21h d'une carte de savoureux petits plats salés et sucrés. Des cocktails empreints de soleil, avec ou sans alcool compléteront l'offre du Rooftop.
Ainsi, que soit sur la Terrasse Kléber ou sur le Rooftop, le Chef David Bizet et ses équipes présenteront une carte printanière remplie de saveurs. De quoi marquer de la meilleure des façons le retour des beaux jours dans la capitale.