MOB HOTEL OF THE PEOPLE
 Le MOB HOTEL Paris Les Puces dévoile sa programmation pour le mois de Mai 2022.  La saison BBQ est officiellement ouverte ! Rendez-vous sur le rooftop du MOB HOTEL Paris.
Le Summer Garden vous accueille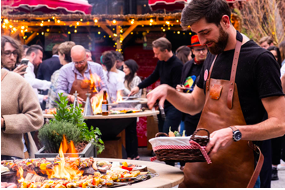 Retrouvez un espace convivial à partager avec vos proches, sur le rooftop du MOB Hotel Paris Les Puces. Un lieu qui vous permettra de partager des barbecues et devenir pro de la grillade ! En effet, le MOB HOTEL a pensé aux Parisiens qui n'ont pas de lieu où profiter du soleil pour faire des barbecues. Donc, il leur ouvre les portes de ses jardins cet été et de ses rooftops pour des barbecues participatifs.
Par ailleurs, beaucoup d'autres activités vous attendent au MOB Hotel Paris Les Puces telles que l'apéro mixologie d'Afrique avec OHMBOA, l'atelier Drink & Draw avec le hub associatif the Art Club 93. En outre, vous aurez l'occasion de participer au Portrait Photo avec Monsieur Collodion, le Yoga dynamique avec Serial Yogger, quoi de mieux pour se détendre. De même que, on peut retrouver les Atelier DIY Reliure de carnet, Atelier Fêtes des Mères et The Gros marché Vintage & Made in France pour clôturer ce mois de mai.
La programmation de MOB HOTEL PARIS
Tout d'abord, le MOB Hôtel Paris s'occupe de la base, la nourriture est fournie. Les convives n'auront plus qu'à gérer les braises, c'est vous qui faites cuire vos grillades. Tous les ingrédients nécessaires pour accompagner votre barbecue seront fournis par le MOB Hôtel. Les employés du MOB Hôtel sont là pour vous aider tout au long. Ensuite, les convives peuvent s'asseoir où ils veulent sur les tables installées dans le jardin, entre amis ou à côté des autres convives.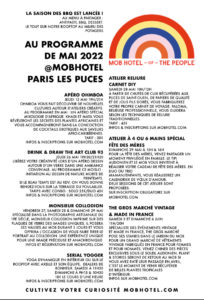 Informations 
Rendez-vous tous les jeudis et vendredis,
de 19h00 à 22h00
Et tout les samedis et dimanches en continu,
de 12h00 à 22h00.
6 Rue Gambetta
à l'angle du 50 rue des rosiers
93400 St Ouen