Une expérience Under the sea hors du commun
Ouvert depuis le 10 mars à Paris, dans le 13ème arrondissement, L'Ephemera se distingue des autres grâce à son expérience immersive hors du temps. Autour du thème de l'océan, ce restaurant ouvre ses portes à Paris avec un tout nouveau concept alliant gastronomie et spectacle. Et cela à un prix accessible !
Un concept pensé par trois français qui met les sens en éveil
À sa tête, un trio de jeunes entrepreneurs. Tous diplômés de L'Institut Bocuse, ils révolutionnent l'univers de la gastronomie. Loris de Vaucelles, chef d'Ephemera, imagine les menus et concocte les assiettes. Ensuite, Annaïg Ferrand.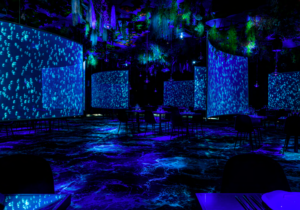 Elle gère toutes les facettes opérationnelles et a notamment supervisé les travaux ainsi que l'ouverture du restaurant parisien. Jade Frommer, quant à elle, est en charge de toute la partie développement, marketing et communication. Leur volonté ? Que les clients soient plongés dans l'univers des fonds marins, loin des codes traditionnels, grâce à une expérience spectaculaire mêlant sons et lumières. L'immersion est totale et le spectacle partout, y compris dans l'assiette.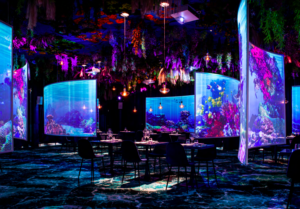 Néanmoins, c'est des années plus tôt que l'idée nait, sur les bancs de l'Institut Bocuse. Dès la fin 2019, ils intègrent un incubateur où ils peuvent installer leur restaurant sur un premier thème : Charlie et la Chocolaterie. Ce fut un succès. Face aux nombreuses réservations et grâce à des rencontres significatives, notamment avec Xavier Niel et Elisha Karmitz, leur projet de restaurant immersif va se concrétiser.
Une gastronomie à la hauteur du spectacle visuel
Avec un décor signé Henriette et Compagnie, des effets spéciaux Superbien ainsi que des jeux de sons et lumières, les sons Aquila, l'expérience ne peut être que réussie. Le soin est apporté à chaque élément, jusqu'à la vaisselle signée Degrenne et Pordamsa, elle aussi sur le thème des océans. Under the Sea par Ephemera est ouvert pour le déjeuner ou dîner et possède une Carte ainsi que des tapas (à partir de 12€). La Carte a été conçue par Loris de Vaucelles, jeune chef passé par les cuisines de Thierry Marx. Celui-ci privilégie une cuisine locale et de saison. Les poissons sont tous issus de la pêche française et durable. D'autre part le bar, lui aussi immersif, est idéal pour prendre un verre.
Under the Sea par Ephemera
160 Avenue de France
75013 Paris