Beyond the walls, une exposition au Cohle Gallery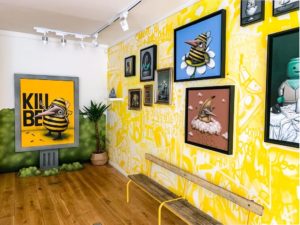 La Cohle Gallery (anciennement Happy Gallery) est la galerie nouvelle génération dédiée à l'art urbain et contemporain en plein cœur de Pigalle. Elle présente sa nouvelle exposition collective, Beyond the walls, qui se tiendra du 24 au 27 septembre Au roi, 75 rue de la Fontaine au Roi 75011 Paris. 
Une dizaine d'artistes français et internationaux seront présents.
Parmi eux des artistes déjà présents à la Cohle Gallery mais également des nouveaux et invités :  3TTMAN (FR), ADAM HANDLER (US), BELIN (ES), CLEMENT ARNAUD (FR), FENX (FR), GR170 (ES), GRIS1 (FR), KORALIE (FR), LUDOVILK MYERS (FR), PAVEL RTUE (RU), RUBEN SANCHEZ (ES), SOLOMOSTRY (IT)…
Cette exposition célèbrera les 1 an de l'ouverture de la galerie physique à Pigalle avec une exposition hors les murs dans un espace de plus de 250㎡ choisi spécialement pour l'évènement en clin d'œil aux anciens pop-up shows.
Une galerie pas comme les autres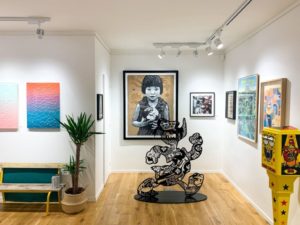 COHLE GALLERY (anciennement HAPPY GALLERY) est une galerie d'art urbain et contemporain fondée en 2016. Dès sa création, elle proposa une approche différente des autres galeries déjà implantées sur le marché de l'art : durant les trois premières années, son activité était principalement en ligne, agrémentée de « pop-up shows » collectifs pour présenter de nouveaux artistes français et internationaux avant que leur travail ne soit mis sur le site de la galerie. Comme cela a été le cas pour Speedy Graphito, Jef Aerosol, Martin Whatson, PEZ, The London Police, Poes ou encore Fenx. Cette présence digitale reste encore aujourd'hui extrêmement importante pour la galerie.
La Cohle Gallery propose également à ses clients et collectionneurs des solutions de financement aussi bien destinées aux particuliers qu'aux entreprises.
L'autre particularité de la galerie réside dans l'accompagnement des artistes qu'elle représente, en les poussant à produire des oeuvres sur d'autres supports afin de diversifier leur travail et les amener à étendre leur monde créatif.
Véritables autodidactes et multitaskers, les fondateurs sont aussi éditeurs d'art à travers leur maison d'édition HAPPY GALLERY, et produisent de nombreuses oeuvres sur différents supports (acier, bois, plexiglass…) vendues par la galerie, via la maison d'édition ou par d'autres acteurs du marché. Ces oeuvres pouvant également avoir une vocation muséale.
Septembre 2019 a marqué un tournant dans l'histoire de la galerie car en prenant ses quartiers dans le sud de Pigalle, elle a pu montrer sa légitimité et proposer un espace permanent pour accueillir ses collectionneurs tout au long de l'année. Celui-ci permet de proposer davantage d'expositions, qu'il s'agisse d'expositions collectives ou personnelles. Pour autant, la galerie continuera de faire des expositions hors les murs.
17 Rue Victor Massé, 75009 Paris