The Friends Experience, l'exposition immersive sur la série TV culte arrive à Paris !
Avis aux fans de la série culte américaine Friends ! Après un vif succès à Boston, Chicago, Atlanta, Dallas, Toronto et New York, The Friends Experience s'installe pour première européenne à Paris dès le lundi 21 novembre 2022. Une exposition immersive qui vous plongera dans les décors de la sitcom mythique jusqu'au 23 janvier 2023 ! 
La série FRIENDS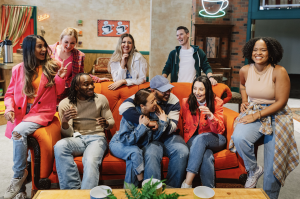 Est-il utile de présenter la série FRIENDS, tant elle a marqué le paysage audiovisuel ? Diffusé pour la première fois en 1994, FRIENDS reste l'une des séries télévisées les plus appréciées et continue encore aujourd'hui de remporter un vif succès dans le monde entier.
Créée par David Crane et Marta Kauffman, FRIENDS nous plonge dans la vie  d'un groupe d'amis vivant à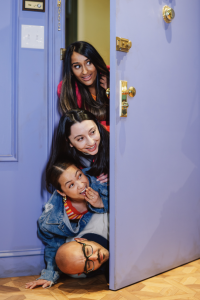 New York. On y suivait ainsi les aventures de Ross (David Schwimmer) et de sa sœur Monica Geller (Courteney Cox), ainsi que de leurs amis Chandler Bing (Matthew Perry), Phoebe Buffay (Lisa Kudrow), Joey Tribbiani (Matt LeBlanc) et Rachel Green (Jennifer Aniston).
Une série incontournable ayant non seulement remporté l'Emmy® de la meilleure série comique, mais qui a également valu des Emmy® Awards aux actrices Jennifer Aniston et Lisa Kudrow.
L'exposition immersive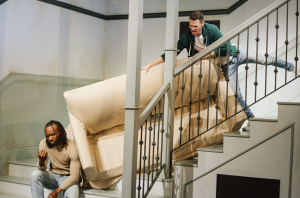 Cette exposition immersive, créée par Superfly X, Warner Bros. Themed Entertainment et Warner Bros. Television Group propose à ses visiteurs de déambuler dans des décors basés sur la série TV iconique.
Les fans de la série pourront ainsi s'amuser à revivre les moments forts de la série iconique. L'occasion de se retrouver dans la cuisine de Monica ou autour de la fontaine du générique. Vous pourrez aussi vous asseoir sur le légendaire canapé orange du « Central Perk » et y prendre un café !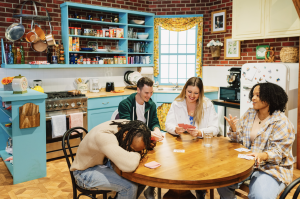 Les visiteurs pourront également revivre d'autres moments phares de la série : se retrouver devant la porte de l'appartement de Rachel et Monica, se relaxer dans les deux fauteuils de Joey et Chandler, ou aider Ross à faire passer le canapé dans la cage d'escalier.
Avant de partir, les visiteurs pourront se restaurer et passer à la boutique de souvenirs, où ils trouveront une sélection de goodies FRIENDS.
Profitez-en pour venir accompagné.es de vos amis !
Informations : 
Du 21 novembre 2022 au 23 janvier 2023.
Billets disponibles dès le mercredi 21 septembre à 9H sur le site The Friends Experience .