3 parfums de Shanty Tea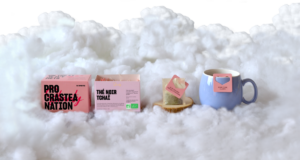 Après des semaines de suspens, de teasing, de votes et de candidatures sur Instagram pour l'aider à trouver celui qui réchauffera son cœur, la Bisqueen s'est enfin mariée hier, jour de la Saint Valentin, révélant au passage l'identité de l'heureux élu : le Shanty Tea. Une manière fun et originale pour Shanty Biscuits d'annoncer le lancement de sa première gamme de thés et infusions. Un mariage sous le signe de l'humour puisque, comme les Shanty Biscuits, les étiquettes des Shanty Teas seront aussi porteuses de messages pour déclarer sa flamme, sa flemme, motiver, réconforter ou encore amuser. e.
4 thèmes et 3 parfums pour composer une gamme de 12 références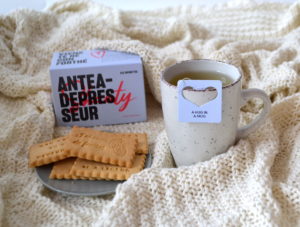 A l'image des biscuits, chaque étiquette de la boîte, à suspendre sur sa tasse, contient un message différent selon le thème de la boîte choisie : Tea amo (« Tu me fonds le cœur », « Si tu me quittes je pars avec toi », etc.), Qui aime bien shantea bien (« J'adore le bruit que tu fais quand tu te thé », « J'ai la flemme de t'insulter mais le cœur y est »,), Procrasteanation (« Un thé et je m'y mets », « Born to be a larve ») et Antea-dépresseur (« Je suis en thé-rapie », « Un thé le matin éloigne le chagrin »).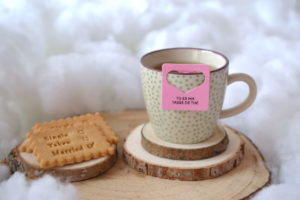 Thé noir Tchaï (thé noir d'Inde, cannelle, gingembre, cardamome, clou de girofle). Et aussi Thé vert à la menthe (thé vert de Chine Gunpowder, menthe douce, menthe poivrée) et Infusion verveine (verveine, menthe poivrée, tilleul, rose) sont les trois premiers parfums de la gamme de thé Shanty Tea.
Boîte de 12 sachets – 12€
3 parfums : Thé noir Tchaï, Thé vert à la menthe, Infusion verveine
« Nous croyons au pouvoir des mots, aux liens qu'ils créent et aux sens qu'ils peuvent donner à des moments du quotidien comme celui de boire une tasse de thé. » 
Shanty Baehrel