Une Collection pour les soixante ans des Rolling Stones chez SHEIN!
Le groupe Rolling Stones fête ses soixante ans d'existence! Pour l'occasion, la célèbre marque de prêt-à-porter en ligne SHEIN met à l'honneur ce groupe avec une nouvelle collection capsule très rock'n'roll.
The Rolling Stones
Le mythique groupe britannique de rock originaire de Londres, en Angleterre s'est formé en 1962.
Les Stones continuent à se produire sur scène et avec succès dans le monde entier. Ils sont d'ailleurs actuellement en tournée à l'occasion du 60ème anniversaire du groupe.
Pour leur tournée européenne, le groupe passera notamment en France le 19 juillet à Lyon et le 23 juillet à Paris.
Le Rock et la Mode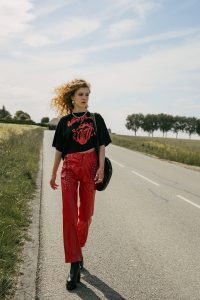 Entre le groupe de Rock et la Mode, c'est une grande histoire d'amour. En témoigne la popularité encore présente aujourd'hui de leur célèbre logo reconnu dans le monde entier surnommée The Tongue (« La langue » dans la langue de Shakespeare). Un logo crée en 1970 par un étudiant en art au Royal College of Art de Londres. Selon l'histoire, Mick Jagger fut marqué par une affiche exposée dans une échoppe du quartier indien de Londres. Cette affiche représentait une déesse indienne nommée Kali tirant la langue. Il aurait donc suggéré à l'étudiant d'utiliser l'image de la langue pour une illustration qui sera utilisée pour la première fois sur l'album Sticky Fingers, en 1971. Cette illustration servira d'emblème pour le groupe par la suite.
La popularité du logo du groupe n'a jamais cessé de croître. Que ce soit auprès de fans, ou auprès du grand public par l'intermédiaire des produits dérivés, notamment les vêtements.
Collection Rock chez SHEIN
La marque SHEIN offre chaque jour un large choix de produits pour ses clients et clientes, avec plus de 6 000 nouveaux produits mode, beauté et lifestyle et plus de 600 000 articles.
Pour fêter l'anniversaire des Rolling Stones de façon rock n' roll, le détaillant en ligne SHEIN présente sa nouvelle collection capsule reprenant les couleurs et les codes du groupe british emblématique. Une collection proposant des T-shirt over sizes, robes et pantalons pour des looks de rentrée à l'esprit rebelle.
Pour découvrir la suite de la collection, rendez-vous ici!