Billabong la première collaboration officielle avec la célèbre influenceuse Halley Elefante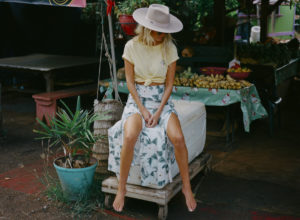 D'une rencontre à une collaboration. Nous ne savons pas si ce sont ses origines new-yorkaises ou ses longues journées passées sous le soleil hawaiien qui lui ont donné cet amour pour l'océan. On se pose toujours la question, et apparemment ses 575k followers sur Instagram aussi. Halley est l'une des premières influenceuses lifestyle qui continue de se démarquer grâce à sa personnalité attachante. Avec ses cheveux coiffés / décoiffés, son sourire bienveillant (et peut-être une part de pizza à la main), Halley nous rappelle l'importance de s'amuser. Billabong et The Salty Blonde, se sont associés pour créer une collection mêlant la signature ensoleillée d'Halley à son élégant style tomboy à travers un assortiment de pièces éco-responsables.
Production éco-responsable
Une véritable bouffée d'air frais pour nous et pour la planète. Cette campagne livre une histoire passionnante, candide et réelle à travers une série de memes origi-naux, invitants les fans de The Salty Blonde à interagir et partager. Immortalisée à Hawaii par le célèbre photographe Ben Pier, sur pellicule, la campagne illustre la nostalgie heureuse et les teintes ensoleillées d'un album photo vintage. Fier d'annoncer que tous les tissus de la collection sont fabriqués à partir de la norme FSC (Forest Stewardship Council) ou de coton éco-responsable.
100% biologique
Pour les accessoires fabriqués en coton 100% biologique et tous nos maillots de bain sont conçus à partir de matières recyclées. Des étiquettes aux sacs (qui sont 100% recyclés et recyclables), nous adoptons des pratiques plus responsables à tous les niveaux. L'humour, un style désinvolte qui ne se prend pas au sérieux, une destination de rêve… Autant d'éléments que nous aimerions toutes rassembler en ce moment. Pour cette campagne illustre cela à travers l'attitude optimiste d'Halley  Elefante tout en célébrant le fait qu'un état d'esprit positif et bienveillant peut transmettre un message impactant.